Why Deloitte Vietnam?
Deloitte Vietnam, a pioneer in the Advisory and Audit industry with nearly 30 years of experience in the Vietnam market, is part of the Deloitte Global network, the largest professional services organizations in the world. With over 1,200 professional staff in Hanoi and Ho Chi Minh City offices, Deloitte Vietnam brings in-depth local understanding of Vietnam regulations and business environment and the full strength of Deloitte Asia Pacific members to help our clients succeed. Through our extensive network, Deloitte Vietnam delivers value-added services in Audit & Assurance, Consulting, Financial Advisory, Risk Advisory, Tax & Legal and Professional Training to both private and public sectors across a wide range of industries.
Our client service teams help create powerful business solutions for local and multinational companies and Organizations. This integrated approach combines insight and innovation from multiple disciplines with business knowledge and industry expertise to help our clients exceed their expectations.
With the power of Deloitte Asia Pacific and the vision of the Deloitte Global network, Deloitte Vietnam is dedicated to providing superior client services with professional objectivity and to working diligently to preserve the trust of our clients and business partners.
Employee Engagement

As the world's largest professional service organisation, talent is our most important asset. Our talent objective is to be an employer of choice, with programs and initiatives to attract and retain the best talent. We place high emphasis in ensuring that employees are well-trained to perform their work, helping them take pride in what they do, while being eager to meet their goals. Our well-designed onboarding program and learning programs for the new hires allow employees to learn and understand the firm's culture, expectations, and policies.
Deloitte Vietnam aims to facilitate effective collaborative communication. These are done through a number of sharing sessions that are held throughout the year which also provide employees with updates from the business, leadership, and policy to social etiquettes.
We also hold events to help foster employee bonding and provide them with opportunities for networking, such as the annual Deloitte Alumni event, Family Day, Impact Day, New Year Party, outing trips, and International Women's Day celebration, Deloitte Cinema Day, etc.
                                              At Deloitte, we don't do a happy hour. We do Deloitte happy hours
                        The inaugural Auditor Proud Day held in 2019, to honour and celebrate the meaningful work
                                     and positive impact of our auditors on businesses and the society.
                               Celebration of the "HR Asia Best Companies to Work for in Asia in 2019" Award.
Work-life Balance
At Deloitte, we are proud to identify and bring out the best potential in our people through in-house coaching program. Through the program, a senior will be assigned to work with new or junior employees. The role of the senior is to help their new hires or juniors discover and leverage on their strengths, as well as examine their performance trends and advise on professional development over the course of their career.
At Deloitte, we not only support our employee professionally, but also care about their wellbeing. We offer working conditions that allow our employee to be in good physical and mental condition – through annual health check-ups provided at one of the state-of-the-art hospitals in town and a number of sessions with health experts for preventative measures. A premium health insurance package is also provided throughout the year.
We also celebrate our employees' birthday and provide support on their special personal occasions. Our employees get to enjoy Deloitte Cinema Day, end-of-busy-season party, and healthy snacks provided during D-Hour session. There is also a health awareness month, where we encourage employees to live a healthy lifestyle through various activities. We want Deloitte Vietnam to be the best place to work for and develop careers while have much fun together.
                                      Deloitte Cinema Day: an annual event for Deloitte colleagues to gather 
                                             and enjoy a blockbuster movie right after its premier day.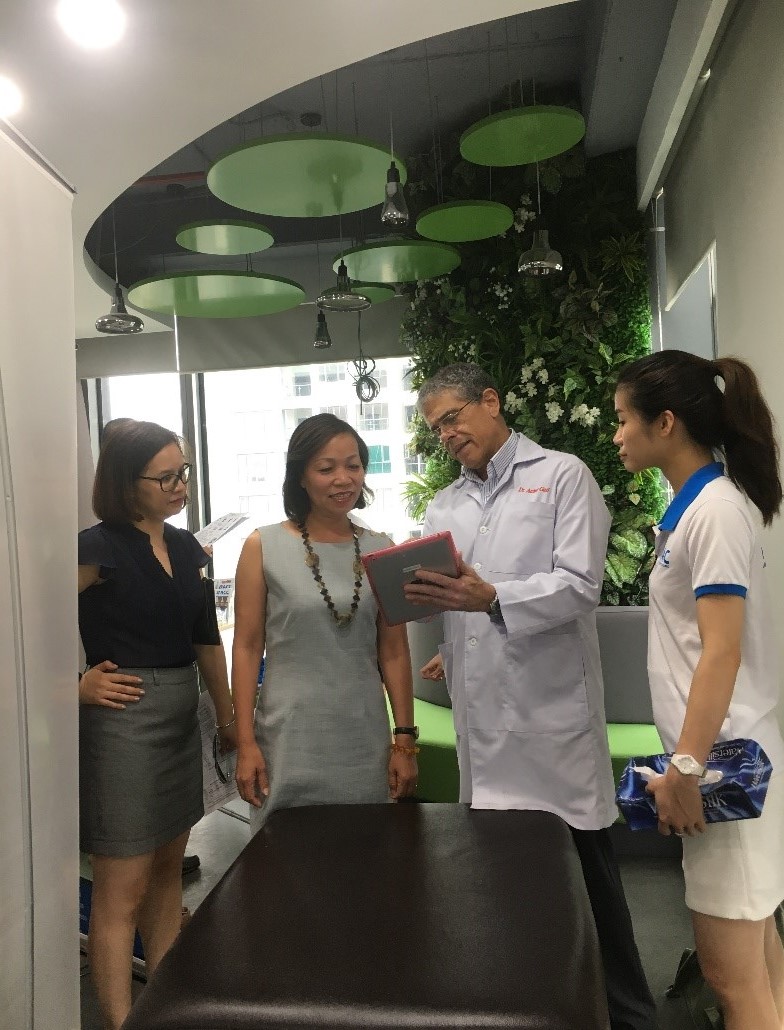 Month of Health Awareness: Sharing from specialists about how to stay healthy.
Workplace Policies & Practices
Deloitte is committed to ensuring that employees continuously grow and improve. We focus on helping individuals build the necessary skills and capabilities to perform their work effectively by providing them access to our global catalogue of online learning, allowing employees to access relevant content on-demand. There is over 60,000 hours of learning available online 24/7 in 20 languages. In addition, employees are given unlimited access to Deloitte's online library of over 10,000 books on finance, business & IT, leadership development training from Harvard Business School and highly interactive Deloitte Virtual Classroom sessions.
Deloitte is a place where diversity and uniqueness are celebrated. We believe that an inclusive and gender-equitable workplace increases performance and productivity by developing the unique strengths of our professionals. It is more than just the "right thing to do", but a firm imperative and core to our global strategy "ALL IN", which focuses on accelerating gender and inclusion, providing equal opportunities for all to grow, succeed and be their truest selves. Opportunities are offered equally regardless of socio-economic backgrounds, sexual orientations, physical abilities. A global Female Leadership Development program has been implemented within the Deloitte Global network to ensure women are empowered and given opportunities to excel and succeed. At Deloitte Vietnam, women outnumber men by 50.5% from managerial levels in early 2020. Deloitte Vietnam has been awarded the EDGE (Economic Dividends for Gender Equality) Certificate – Second out of 3 levels – for our commitment and policy implementation of workplace gender equality.
                                                  'Professional image' coach session for Deloitte colleagues.
Subsequently, Deloitte Vietnam has been awarded
Best Companies to Work for in Asia
for two consecutive years 2018 and 2019 by HR Asia Magazine, and ranked in the
Vietnam's 100 Best Places to Work
by Anphabe for six consecutive years since 2013.
Inside review about Deloitte Vietnam